2024 Summer at Hopkins Daytime Information Session
Learn how you can make the most of a memorable summer online or on-campus this year -- enroll in the right Pre-College Programs and Summer Term Undergraduate Courses for you.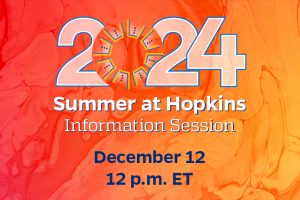 Join us for this engaging event and you'll learn how you can maximize next summer at Johns Hopkins. Discover exciting new areas of study and find out about the wealth of opportunities to learn from our expert faculty.
Now is your chance to preview how you can expand your mind and your network of friends, while you earn academic credit from Johns Hopkins University!
We've also got an evening session scheduled for December 13 — learn more here.