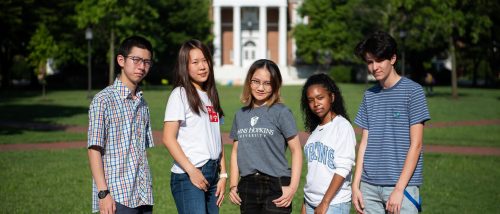 Homewood is a traditional college setting in the heart of a bustling city: Think red-brick buildings and tree-lined pathways, an iconic clock tower, and expansive green quads in a metropolitan area with a rich history that has blossomed into a hub of social, cultural, and economic activity. The park-like campus is spacious and wooded—a perfect place to walk, run, or stretch out a blanket and watch the world go by.
As an on-campus Summer at Hopkins student, you'll have access to an impressive array of campus facilities, academic resources, and services: Homewood offers all the amenities of a top-tier university, with state-of-the-art laboratories and classrooms, expansive libraries, comfortable residence halls, recreational facilities, and more.
Milton S. Eisenhower Library
Dive into your research—or just pick up a good read—at The Milton S. Eisenhower Library, Johns Hopkins' principal research library and the largest in the university's network. In addition to what's on the shelves, the library offers an extensive assortment of electronic resources, including books and journals, specialized databases, and statistical and cartographic data.
Brody Learning Commons
Grab a coffee and get your study group together at The Brody Learning Commons, which connects to the Eisenhower Library and includes a large quiet reading room, 16 group study rooms, teaching and seminar rooms, and a café. The Commons is also home to the Department of Special Collections and the Department of Conservation and Preservation.
Albert D. Hutzler Reading Room and Learning Den
Looking for a quiet place to read? Head to The Hutzler Reading Room (fondly known as "The HUT"), located in Gilman Hall, where you can sit comfortably in sunlight filtered through 19 gorgeous stained-glass windows.
Ralph S. O'Connor Recreation Center
Run, swim, climb, or swing a racquet—you'll have ample exercise options at our recreation center and state-of-the-art facilities, which include a fitness room, indoor track, swimming pool, weight room, climbing wall, racquetball, and squash courts.
Johns Hopkins Archaeological Museum
You don't have to leave campus to enjoy this fascinating museum, which highlights nearly 700 archaeological objects from ancient Greece, Rome, Egypt, the Near East, and the Americas. Located in a custom-built museum facility set within the spectacular Gilman atrium, it's close enough to swing by between classes.
Student Health and Wellness Center
If you're in need of health care, you'll be in good hands at The Student Health and Wellness Center, which provides high quality, confidential health care to enrolled Summer at Hopkins students. Our health care staff consists of board-certified physicians, nationally certified nurse practitioners, a licensed dietitian, registered nurses, medical assistants, and a women's health nurse practitioner.
Student Accounts Office
Your questions about billing for tuition, fees, and other campus-related student charges can be answered at the JHU Student Accounts Office, which provides services to students and their families.
Office of International Services
If you're an international student, you'll find the OIS is an invaluable resource for any questions related to your visa or other needs. OIS handles international programming support for all Johns Hopkins divisions and their international students, scholars, faculty, researchers, and staff in the United States.