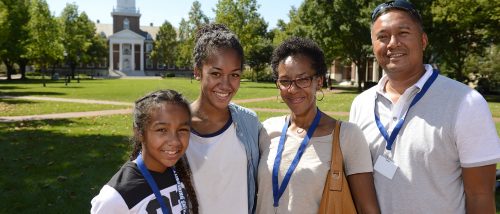 Summer at Hopkins offers high school and undergraduate students a host of opportunities to learn, grow, and excel academically.
Whether you're considering enrolling your academically advanced high school child in a Pre-College Program or undergraduate course, or you have a young-adult family member hoping to enroll in Summer Term, we know you have high expectations. You're no doubt looking for an experience that will expand their knowledge, broaden their horizons, and boost their confidence, while also ensuring their safety.
We get that. And we've got that.
Each summer, we welcome more than 1,000 students—online and in person—to participate in educational opportunities, with a commitment to providing an exceptional academic experience in a safe, inclusive setting.
Inclusion
At Johns Hopkins, we continue to be a school that is welcoming to those of all genders, national origins, ages, races, ethnicities, religions, disabilities, and sexual orientations. We value diversity, and we make every effort to provide a safe environment for all. Our University President Ronald Daniels stands committed to maintaining a welcoming environment for all.
Safety
JHU's Office of Campus Safety and Security provides an array of services that support students' well-being. A network of emergency telephones set up throughout the campus immediately connects any person in need to a security office dispatcher, 24 hours a day. Uniformed officers patrol the campus at all times.
Furthermore, these additional measures are in effect for pre-college students:
Residential Counselors supervise all activities
24/7 professional student supervision, including residence-hall rounds, curfew enforcement, cleanliness checks
12-to-1 students/counselor ratio
Daily sign-ins and room check-ins
Attendance checks
Weekly Resident Counselor group meetings
Sign-in and sign-out procedures for leaving campus
Residential staff help supervise off-campus field trips
Pre-college students are assigned a designated "home area" where they are permitted to roam freely without supervision but are always encouraged to walk in pairs


Have Questions? We have Answers!
In accordance with the Family Educational Records Protection Act (FERPA), the right to privacy belongs to students in a college or university program, regardless of age. Therefore, most educational records, except details defined as "directory information," cannot be released to parents, guardians, or family without the express consent of the enrolled student, unless authorized or required by law.
Important academic, program, and billing information will be delivered directly to the student's email address entered in the application for program admission site. It is important, therefore, that students check frequently for emailed information from the program or from the university and take action when requested
The Office of International Services assists international students with visa and other international related inquiries. International students must check-in with OIS on the first day of classes. You'll find details on our international students page  and the Office of International Services site.
Student Accounts manages all tuition and billing services. You'll find information about student account services, plus contact information, on the Student Accounts Office website.
Statements are generated on the second Wednesday of each month, in the evening. Any transactions that happen up until then are captured in that month's billing cycle and will be due at the end of the month. Anything that happens from the following Thursday on would be in the next billing cycle and so due at the end of the next month.