Summer Programs and Courses for International Students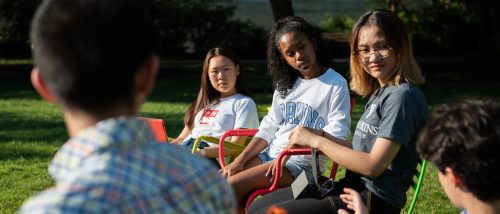 Welcome to Johns Hopkins University!
When you join Summer at Hopkins this year, you'll be among students from more than 75 countries who want to learn and grow at JHU. Your unique background and perspectives will enrich the learning experience and reinforce Johns Hopkins' strong commitment to fostering a diverse and inclusive environment for all.
Whether you're logging in from abroad or you're an undergraduate student considering traveling to JHU's flagship campus in Baltimore, Maryland to learn from our distinguished faculty in-person, you'll find important information below that will put you on the path to making your Summer at Hopkins a reality.
Am I Considered an International Student?
If you are not a United States citizen or permanent resident, you are considered an international student.
Maximize Your Opportunity to Learn, Start Early
Popular Pre-College Programs and Undergraduate Courses fill up quickly, so starting the application process early—regardless of whether you plan to attend online or in-person—will help allow you to secure a spot in the course or program of your choice.
If you are seeking to attend in person, beginning early is especially important, as it gives you (and your family) adequate time to fulfill the documentation requirements for a student visa and allows adequate time for your visa to be processed. Please note the 3 "Next Steps for On-Campus Learners" listed below. With prompt and thorough attention to this process, you'll be able to make your travel plans with confidence.
Admissions Requirements
Along with the standard application requirements for Pre-College Students or Visiting Undergraduate Students, international students have a few additional prerequisites before being considered for Summer at Hopkins admission. They are:
English Language Proficiency
You'll need to demonstrate your proficiency in English through one of these exams:

TOEFL: You should typically receive a minimum of 100 total for the Internet-based TOEFL (iBT) with preferred sub-scores of 26 (Reading), 26 (Listening), 22 (Writing), and 25 (Speaking).
IELTS: A score of 7.0 or higher on each band is expected on IELTS.
Duolingo: A score of 120 or higher is expected for the Duolingo English Test

.
International applicants who have attended an English-speaking school (high school or college) for a minimum of two years are waived from the proficiency requirement.
Evaluation of International Official Transcripts

If you attend an institution outside the United States you will need to provide an official academic transcript, submitted in English, directly from your home institutions to JHU Summer at Hopkins via email or to this postal address:
Summer and Intersession Programs
Advanced Academic Programs
2701 N. Charles Street, 3rd Floor
Baltimore, MD 21218
USA
If you are unable to send official academic transcripts in English, please submit your official transcripts to JHU Summer at Hopkins through World Education Services (WES). The process to receive and complete an evaluation of your credentials usually takes 4-to-6 weeks. Johns Hopkins University cannot process your I-20 request until the official academic transcripts are received.
Enrollment Requirements for a Visa
Before you attend Summer at Hopkins as an international student, you must apply for an F-1 Visa and be enrolled full-time to maintain your visa status during the entirety of your studies.
Pre-college students enrolled in the 2-Week Pre-College Programs are:
Considered full-time as long as they enroll in one Pre-College Program during a 2-week session.
Eligible to enroll in consecutive 2-week sessions to maintain their visa status to continue coursework during the summer.
Pre-college students or visiting undergraduates students attending the Summer Term Session A or B must:
Enroll in on-campus undergraduate courses totaling at least 4 credit hours to be considered full-time.
Enroll in a minimum of 6 credit hours to qualify for on-campus housing during Session B. Students enrolled in less than 6 credit hours may request housing accommodations, but housing is not guaranteed. On-campus housing is only available during Session B.
Next Steps for On-Campus Learners
Once you are accepted into Summer at Hopkins, you will receive notification of your Initial Payment in the online application portal. Please pay this amount to initiate the F-1 Visa process.
Next, you will be sent an email notification by the Johns Hopkins Office of International Services. This email will outline how to request your I-20. If you have questions or concerns about entering the United States with a student visa, please contact the JHU Office of International Services.
You will also need to secure the approved health insurance coverage.