Summer Term Courses for Undergraduates at Johns Hopkins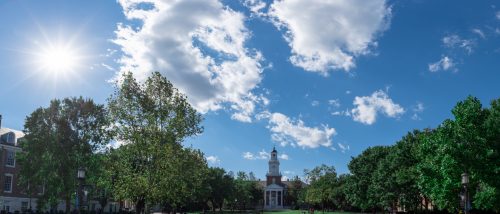 Get ahead with your college career: Fulfill a degree requirement or explore a new area of interest at JHU this summer.
With more than 80 undergraduate courses in the arts, sciences, math, and engineering—and the ability to study on campus or online—Summer Term offers an unparalleled opportunity to further your learning.
You'll be taught by JHU's expert instructors and join a student body that shares a passion for discovery and brings to the experience a welcome diversity of perspectives. Your Summer Term classmates might include undergraduate students hoping to get ahead with degree requirements or discovering something their home college or university doesn't offer, as well as ambitious high-school students ready to learn at the college level.
2023 Summer Term Courses
Undergraduate students and qualified pre-college students can live in-residence this summer, or opt to commute to in-person classes at JHU's Homewood campus in Baltimore, Maryland, or attend online. On-campus courses run 5 weeks in length; and online courses are 5, 6, 8, or 10 weeks in length. You may enroll in more than one course at a time; however to support a successful learning experience, 14 credits is the maximum you may take during the Summer Term, with no more than 7 credits scheduled within a single session.
Taking Courses On Campus
Enjoy state-of-the-art classrooms and laboratories and the dynamics of in-person interaction at Homewood campus this summer. Inside the traditional red-brick buildings, great minds are working together to educate, innovate, and discover—join them for a learning experience like no other.
Taking Courses Online
Experience the flexibility to study at your own pace, no matter where you live, while attending Summer Term's online courses. Work around a summer job or pour yourself into that big internship and live anywhere in the world while still making progress along your path to graduation. Your online courses are led by JHU's world-renowned faculty and instructors and offer an opportunity to be part of the Johns Hopkins community of learners.
Get Ahead This Summer at Hopkins
Completing courses over the Summer Term is a great way to gain ground toward your degree or explore a new area of study, while learning from skilled instructors and building relationships with like-minded peers.